I've been making gummy souls to go along with an upcoming Soul Eater cosplay. In this series, human 'technicians' collect the souls of corrupted humans to feed to their shape-shifting weapon partners in order to create weapons capable of being wielded by the Grim Reaper himself.
While the recipe is intended to be used with custom molds, the candy itself is actually pretty tasty and caffeinated ANYTHING is always fun.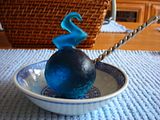 Ingredients
2 pkg. jello flavor of choice
6 pouches. Knor's unflavored gelatin
3/4 c. Energy Drink (I use Bawls for the blue gummies for color)
1. Pour liquid into mixing bowl.
2. Stir in gelatin and jello, mix until smooth.
3. Let sit in fridge for 30 minutes to kill carbonation.
4. Pour mixture into saucepan, heat on low heat until melted. Stir occaisionally to keep from burning.
5. Pour into molds/shallow pan, let set in FRIDGE. About 1 hour.
6. If not using a mold, cut set gummy into bite sized bits.
For the mold I used:
2 lb. CopyFlex Food Grade Silicone*
1 lb. Safe-D-Clay*
2 oz. Release Dit*
2 oz. Sculpey Bake Shop
Aluminum Foil
Cardboard
Duct Tape
It's a basic 2-piece mold. Since I never photographed the process, the best I can do is link you to other sites with mold making tutorials. It's important to use food-safe media or else, on top of being toxic, your candies will taste like plastic.
Mold Making Tutes
:
http://www.instructables.com/id/Mold-Making---Mass-Casting-Complex-Parts-with-a-p/
http://www.instructables.com/id/Two-Part-Silicone-Casting/
*Can Be Purchased From:
http://www.culinart.net/silicone.html
Enjoy :D